Piscopo Gardens has two events you don't want to miss this month.
Whether you're just starting out in the gardening world or whether you're known for your green thumb, Piscopo Garden has something for everyone!
The biggest selection of plants on the island can be found at Piscopo Gardens, along with gardening supplies, accessories and a pet shop with a large variety of pet food and accessories. Their team are passionate about spreading gardening joy and are always ready to help you.
Attention all gardening lovers!
The end-of-season warehouse sale starts on the 17th-19th of March from 9 am to 6 pm, and it's got exclusive deals and discounts you don't want to miss. There will be lots to choose from with discounts of up to 70% off.
Offers will be valid until stocks last.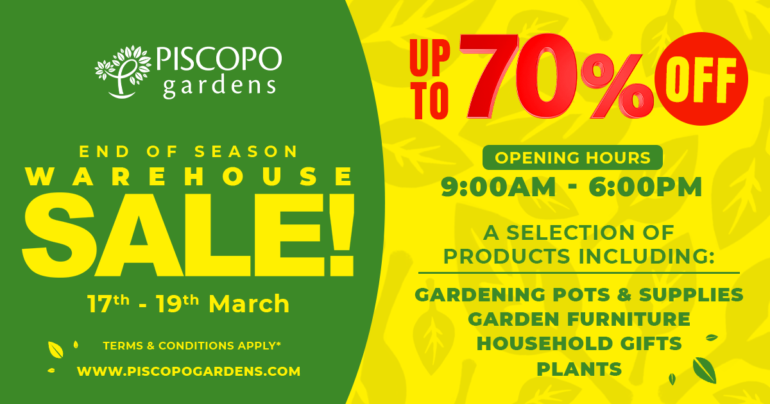 There will also be a Herb Weekend on the 31st of March, 1st & 2nd of April from 9 am-6 pm.
Along with the herb showcase, there will be cooking demos, live music, and herbal talks.
Handcrafted products and herbal tea shop tastings will also be available.
There will also be fun activities for your little ones, including a treasure hunt, repotting, and face painting.
Mark your calendars so you don't miss this fun, informative event with fantastic offers!
For more info visit www.piscopogardens.com